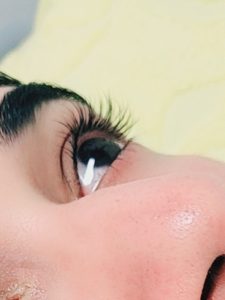 Can eyelash extensions damage your natural eyelashes? Well! The answer is yes if you choose the wrong length! That's why picking the correct lengths for your eyelash extension is crucial. It's even more necessary to choose the right natural eyelash extension service provider in Melbourne. Eyelash lengths are different, and one size doesn't fit all. The length that works for one will look like a mismatch for another person. They will understand your facial aesthetics and help you choose the right eyelash length that complements your face and eyebrows. In today's blog, let's get to know how to choose the right eyelash extension length.
Lash Length Guide
Naturally, eyelash extension lengths range from short, medium, long, and extensive. Your eyelash extension artist will listen to your requirements, check your natural eyelash length and recommend the best lash length that suits your face.
For a Natural look – 8mm-9mm (Short eyelash length extensions are recommended)
It's because when it comes to natural eyelashes, the length of the hair will be less on the inner and outer edges. To mimic the look of a natural eyelash completely, short lengths are installed to the natural lash.
For Mascara look – 10mm-12mm (Long eyelash length extensions)
When you have a deep-set eyelash, you can go for a 10mm-12mm eyelash length extension for an accentuated mascara look. This lash length will make your eyes look more prominent and deep.
For a Long & Bold look – 12mm -14mm (Bold and dramatic eyelash length extensions)
If you have close-set eyes, you can opt for bold eyelash lengths to highlight the outer corners of the eyes. This would make your eyes pop out and look dramatic.
For extra-large and dramatic eyes – 15mm (Long eyelash length extensions)
If you are the glam girl in the town with beautiful hooded eyes, opting for large eyelash extensions with a length of 15mm can look great on you.
Now, you know your eye shape and eyelash extension length. What are you waiting for? Consult with our expert artists from JPride Lashes. For appointments, call 0433 637 079 today.