Do you wish to have long and luscious lashes? That is what we are trained for! JPride Lashes has been providing the best eyelash extensions in Melbourne with an emphasis on quality, value and artistic flair. Through ongoing education and training, we bring you the latest styles and techniques, giving you a unique and bespoke experience. 
Premium Quality Eyelash Extensions
At J Pride Lashes, we value quality over quantity and maintain the highest industry standards possible. Our eyelashes are made of high-quality material for being comfortable. As we use high-tech methodologies and adhesives, you can expect long-lasting results. Moreover, our Melbourne eyelash extensions are lightweight and do not damage your natural lashes, so you can always look and feel your best.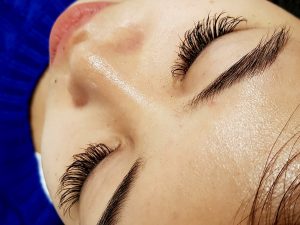 Types Of Eyelash Extensions 
As a leading eyelash studio in Melbourne, we offer different types of eyelash extensions such as classic eyelash extensions, volume eyelash extensions and hybrid eyelash extensions. Our experts will evaluate your facial features and your preferences to recommend the most appropriate eyelash extension for you. 
Classic Eyelash Extensions 
With classic eyelash extension, one individual lash is applied to one natural lash. Here at J Pride Lashes, we offer three types of classic eyelash extensions in Melbourne such as natural set (60 individual single lashes per eye), natural full set (80 – 90 single individual lashes per eye) and double lash set (80 – 90 double lashes per eye).
Volume Eyelash Extensions   
With volume eyelash extensions, 2 to 10 individual lashes are applied to one natural lash. You will find three variants of volume eyelash extensions such as volume light set (60 fan style lashes per eye (2D-3D)), volume medium set (80 fan style lashes per eye (5D-7D)) and volume full set (120 fan style lashes per eye (10D)). 
Hybrid Eyelash Extensions 
Hybrid eyelash extension is a mixture of classic and volume lash extension techniques. It is ideal for people who want to achieve a dramatic yet less-than bold look. 
In addition to eyelash extensions, we also offer eyelash refills and removal services that make your lashes look fuller for a long span of time. With a wide range of eyelash extensions services in Melbourne and many years of experience in the industry, we offer an iconic experience and flawless results that make you feel revamped. To know more about our eyelash extension procedures, call 0433 637 079 and get in touch with us today.